Oct
25
Wed
VR Green Real Estate Symposium

@ Lake Morey Resort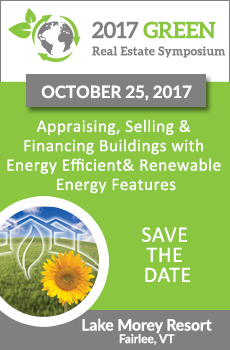 Mark Your Calendar!
VR's Green Real Estate Symposium is back by popular demand!
The Green Real Estate Symposium is a one day event designed to bring together Realtors®, Appraisers, Mortgage Lenders, MLS, & Home Builders from Vermont and New Hampshire with the intention to educate all parties in the process of the Green Home movement.
Details coming soon!
Nov
28
Tue
GMAR, American Red Cross Blood Drive

@ Vermont Realtors
Nov 28 @ 11:00 am – 4:00 pm
Join the Green Mountain Association of Realtors® and the American Red Cross for a blood drive on November 28 at the Vermont Realtors® office in Montpelier! Let's work together to help our communities!
Nov
29
Wed
Solar 101: Vermont Residential Solar

@ Four Seasons Sotheby's International Realty
Nov 29 @ 10:00 am – 12:00 pm
Year over year, the solar industry continues to achieve substantial growth in states such as Vermont.  This growth is due in part to the rise in relative cost of electricity, combined with declines in costs to manufacture and install solar.  While these factors create a competitive cost for solar power, local and federal policy are also in place supporting the growth of solar in the US. While these factors have created new opportunities for businesses, different companies are operating with various business models as they sell and install solar on a property. While a homeowner is generally presented with the savings that will be achieved by installing the solar system, the underlying programs can vary. With uncertainty around the variability in the equipment installed as well as the agreement surrounding ownership of the system, homeowners, realtors® and appraisers are experiencing new challenges in accurately guiding clients through the sale and purchase of a home.
The purpose of this presentation is to provide an overview of the solar industry as it relates to residential home sales. This is includes everything from solar industry history, to state and federal policy, as well as specific equipment and related warranties. Lastly you will see the current state of research and tools available that has been completed to determine how a solar system will influence a value and sale of a home.