Statewide Realtor® Food Drive
When:
June 18, 2018 – June 29, 2018
all-day
2018-06-18T00:00:00-04:00
2018-06-30T00:00:00-04:00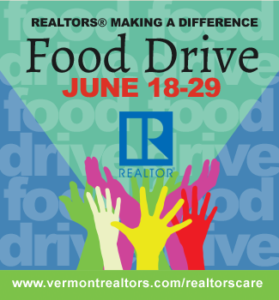 GMAR, in partnership with Vermont Realtors® and all of the state's local Realtor® boards and associations, will participate in a statewide Food Drive from June 18-29!
"We're very excited about this event and the chance to help Vermonters throughout the state," said Helen Hossley, VR CEO. "Realtors® truly care about making a difference and are committed to making their communities a better place to live."
The statewide food drive aims to help food shelves in all areas of Vermont. Food and cash donations collected during the drive will support the communities where they are collected. A full list of the food shelves supported by this event will be posted soon.
Local boards will be distributing collection bags in early June to all who are interested in participating.
Details about this exciting event will be coming soon!