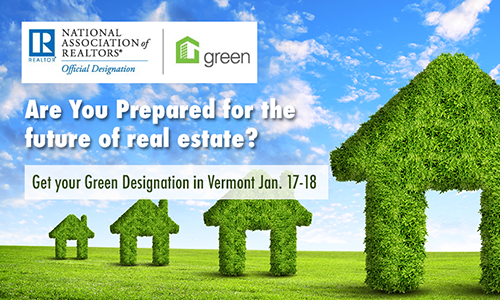 NAR Green Designation
Get the Expertise You Need
Don't miss this unique opportunity to get your NAR Green Designation in Vermont!
This designation comes as a result of the growing demand for REALTORS® to understand green concerns of clients and implement sustainable practices in their day-to-day business. NAR's Green Designation is a unique program that provides vital training, support, and information to real estate professionals who are looking to advance their businesses and raise awareness in their community about the cost savings, health benefits, and overall value of homes with green features. NAR's Green Designation does more than introduce REALTORS® to this important topic, it encourages dialogue amongst industry professionals about the positive change in housing toward smarter, healthier, more sustainable homes and neighborhoods.
NAR's Green Designation counts as credit toward earning the ABR® designation awarded by the Real Estate Buyer's Agent Council (REBAC). A copy of the course completion certificates is required to receive credit towards your ABR® designation.
January 17-18, 2018
8:30am-4:30pm
Hampton Inn and Suites, Manchester Center, VT
$250 VR Members. |  $275 Non-Members
10 hours CE (Pending)
---
Course Overview
DAY 1 – Green priorities for new and existing homes
Resource efficiency is a top consideration with new construction, but existing homes are about 90% of the market. Through this designation you'll learn to identify client preferences that align with the benefits of resource efficiency. You'll also learn how to guide clients to make greener choices when upgrading existing homes, and how new construction homes can meet and exceed green standards.
DAY 2 – Green homes are here to stay
Gain the knowledge that distinguishes you as a source for resource-efficient homes. This designation features content that focuses on the needs and  references of today's homebuyer, such as cost savings, home health, and security. Discover the most effective ways of positioning a resource-efficient home on the market. The ability to bring the green aspects of a home to the forefront will make you an invaluable advisor to sellers.
---
Instructor: Craig Foley
Craig Foley is the chief of energy solutions for RE/MAX Leading Edge, and a co-founder of inCharge Energy. Craig joined the RE/MAX Leading Edge team in January of 2012 as a Realtor® with 12 years of experience, and as a leading advocate for high-performance buildings in New England. Craig is the architect of RE/MAX Leading Edge's, a top five residential real estate company in MA, successful green brand and strategy.
Craig's combination of real estate and energy management skills give him a unique perspective about sustainable energy solutions.